In the late 1950s, Sir John Gielgud and Sir Laurence Olivier, so taken by Richard Burton's voice and acting, proclaimed he could become the best stage actor of the 20th century. Being a film star seemed unseemly by comparison. Which would Burton rather be? To which, according to Furious Love authors, Sam Kashner and biographer Nancy Schoenberger, Richard replied, "Both."
Richard Burton reprised his role in Hamlet and gave over 160 performances in 1964 at the Lunt-Fontanne Theatre. If you watch the "To Be or Not to Be" video below you can see how the two British heavy-hitters could think so. Richard Burton's masculinity exudes confidence and virility. On stage, his tempo slows and speeds, his pitch rises and falls, and his presence mesmerizes. His memory for reciting poetry was impressive, and he could say the famous soliloquy backward if asked.
In Furious Love, which is turning out to be an interesting biography, is about the influence of Elizabeth Taylor on him. Richard transformed from stage acting sensation to film star due to their notorious love affair evolving into a toxic love that would define the phrase "madly in love."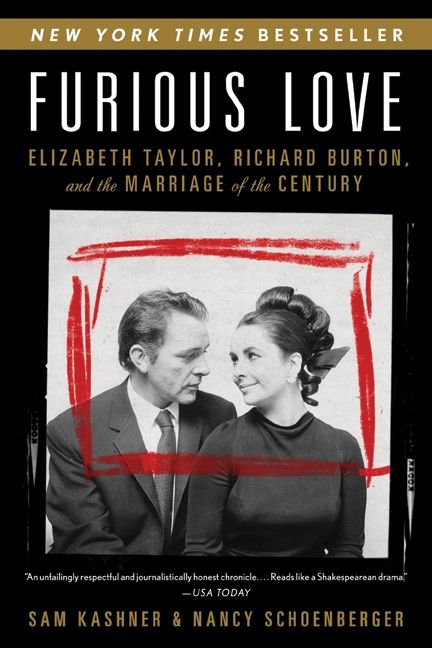 I really don't care to hash up and discuss that toxicity. If you are unaware of their thirteen years together, in summary, they boozed, screamed, slapped, fought, swore, and shagged a lot. Their lustful appetites turned the pair into a global, tabloid extravaganza.
Elizabeth Taylor was the highest paid female film star in show business by 1960 when Richard Burton and she fell in love on the set of Cleopatra. It took three years to make and was hacked and edited into a sprawling mess to the point that it put the kibosh on the career of director Joseph Mankiewicz (All About Eve). He would blame their affair and its subsequent distractions the reason the film was the bumbling elephant that it was. For my winter project, I haven't watched Cleopatra yet. The 5h 20m running time has me intimidated. I might skip to the intermission and watch the latter half…
Anyway, Richard was in awe of her film star reputation, but he didn't understand why Elizabeth just stood there. "She doesn't do anything!" Burton told Mankiewicz. He replied, "Ah, just wait. Look, look at her on film." Richard learned from Elizabeth that acting in a film called for subtlety. Try acting in film as you would on stage and they'll say you're chewing the scenery in a second.
It appears to me that as I continue to watch Richard Burton films, he seems to swing back and forth between that stage actor where he is brilliant and the film actor that seems at times too conservative. For example, take Becket (1964). Richard Burton was nominated seven times for an Oscar during his career. This film was one of them. In it, Burton underplays his character next to the bouncy Peter O'Toole, a true scene chewer.
Becket is a wonderful film. I wondered while watching Richard Burton's performance if he didn't grapple with his stage sensibilities and his acting in the film. Was it erratic? Do you prefer Richard Burton who comes to life and pure energy spills forth out of his mouth and eyes? Or do you prefer Richard whose voice becomes monotone and he seems to be in a body cast? Ha! I guess you know which one I prefer. In other words, it is interesting for me to notice how he delivers his lines. Should he be theatrical or does he convey his character best by curbing his enthusiasm?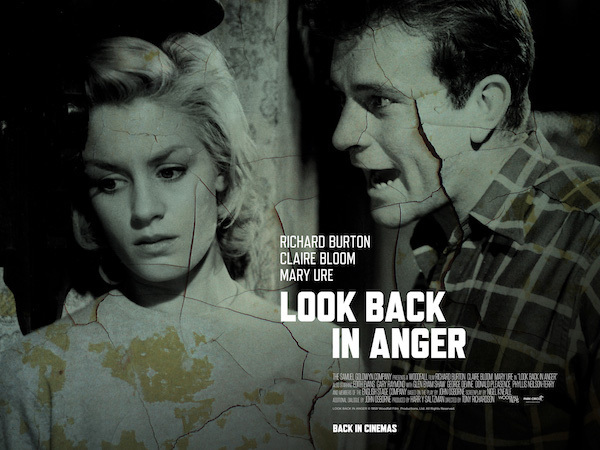 I watched the 1959 kitchen sink play adaptation Look Back in Anger and loved it, especially that fantastic opening directed by Tony Richardson. Jimmy Porter is a young man in Britain who boils under the surface. He is trapped in the drudgery of his life and takes out his frustrations on his pretty wife who cringes and eventually throws in the towel on the marriage and goes home with Daddy. While I didn't care for Mary Uhr's uninspired performance in Where Eagles Dare, in this film, she is convincing as the pregnant, battered wife. I just watched The Spy Who Came in From the Cold and was surprised to see Claire Bloom again. What a coincidence. She's a fine actress in both films. Watch this clip and tell me if you think Richard Burton's portrayal of Jimmy is over the top or just right. 4/5  TCM scene clip "The Proper Time"
When Burton performs a play adaptation, these are my favorite performances, so far. I picked Richard Burton because there are a lot of films I haven't seen. Maybe my opinion will change as I watch more of his films. Who's Afraid of Virginia Woolf is forthcoming in a post of its own. However, one of my favorite Richard Burton performances is in The Night of the Iguana, a story by Tennessee Williams and directed by John Huston. You can read more about the film found here: Night of the Iguana film spotlight
He's theatrical and fun to watch. Burton luxuriates in the Puerto Vallarta setting with three bewitching women (with Elizabeth standing guard on the set) and delivers his lines with enthusiasm. I am glad Burton did not go for subtelty in the role of Rev. Dr. T. Lawrence Shannon, who has troubles living up to the standards expected of a man of the cloth, specifically when it comes to sexual appropriateness. Seriously, what man wouldn't be tempted by Sue Lyon?  4.5